Winter hit Ohio early this year with snow on the ground in October. Without any doubt, our weather continues to be strange in some manner each year. Thankfully it was a great gardening season this year and I can only hope for the same next year.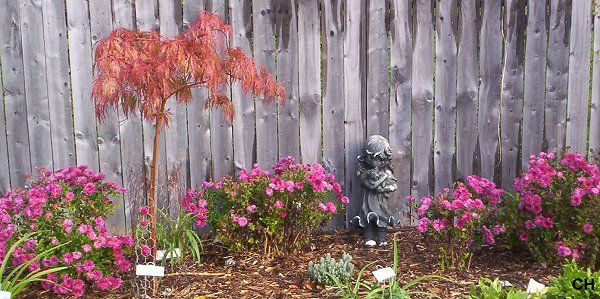 The beautiful Acer Palmatum Crimson Queen with some of the burgundy Mums around her and of course the little girl
Yorkie
statue peeking between.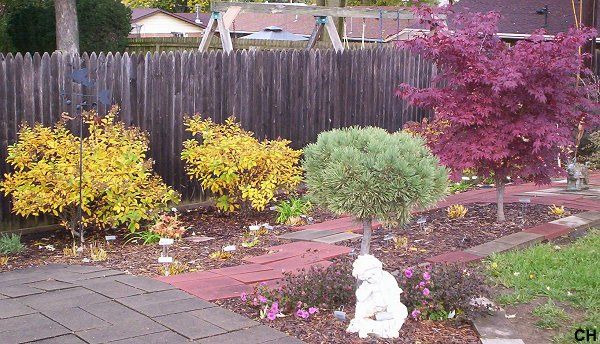 The yard is always shockingly bare when all the perennials are cutback to go into the Winter season. The Japanese Maple Fireglow stands out with the Hydrangea Tardiva showing their lovely yellow Fall colors and I am so glad that I changed to all the flowering shrub to add the Winter interest for me.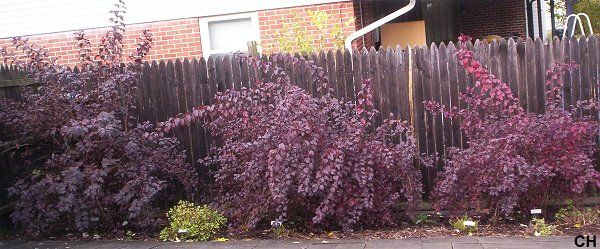 The beautiful Ninebarks. Although these are burgundy year round, showing Diablo and Center Glows here, the color holding throughout the seasons, they intensify some in the Fall.
Hydrangea Limelight on left with Hydrangea QuickFire on right and the Cotinus Golden Spirit in the center. The Cotinus (Smoketree) is golden all season, but enhances with red into the Fall. Hopefully this backline of shrubs along with the others back here really takes off next year with growth.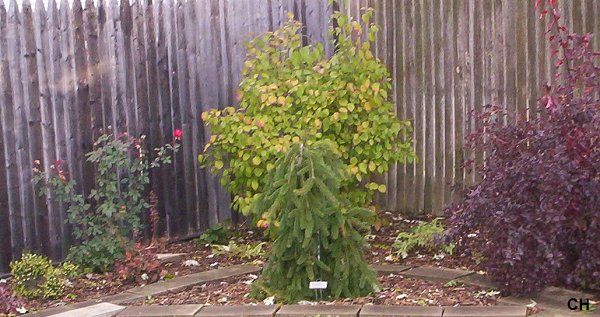 The Picea Abies Reflexa along with the Viburnum Autumn Jazz, starting to show her Fall colors from behind.

Some more Ninebark Diablo's on the other side of the yard. I love these beauties. I do have some Spirea's in between there but moved them forward right before the photos and most of the leaves dried up on them. I found that the Ninebarks tend to be more weepers and because of that had to move forward some shrubs more than I originally had them.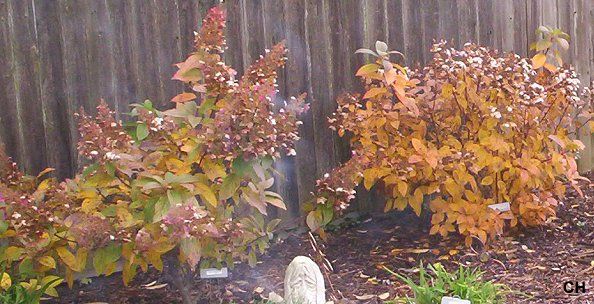 The Hydrangea Pinky Winky on left and another Hydrangea Quickfire on right. Quickfire always has outstanding Fall color, more so then any other Hydrangea's that I have.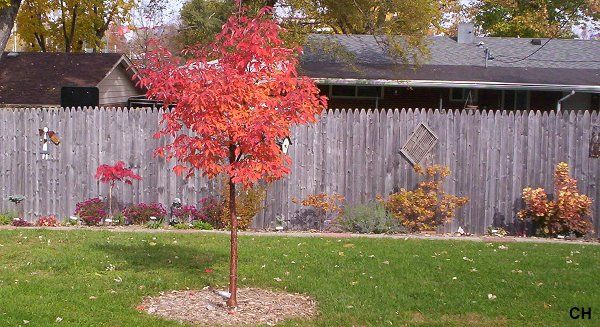 The beautiful Acer Griseum Paperbark Maple showing her outstanding Fall color. You don't get it long, around a few weeks but it's a nice bonus on top of the outstanding bark of this tree.
Not to forget some of the perennials. Hosta Brass Ring is one of the most outstanding to show the color change.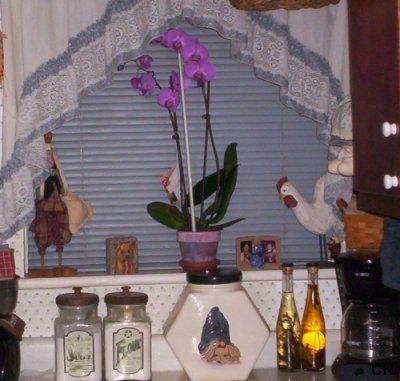 A beautiful Orchid a neighbor brought me down recently. Not the best situation here for inside plants but I'll enjoy it's lovely blooms for the time being. Of course you can see a couple of the other
Yorkie collection
items in this photo. Hope you all have some wonderful holidays.