Heuchera Palace Purple with some of my Hosta collection. I love the Heuchera - Coralbells, the foliage is so lovely and for me evergreen. This is one of those plants like Hosta that I grow for the foliage rather than the blooms.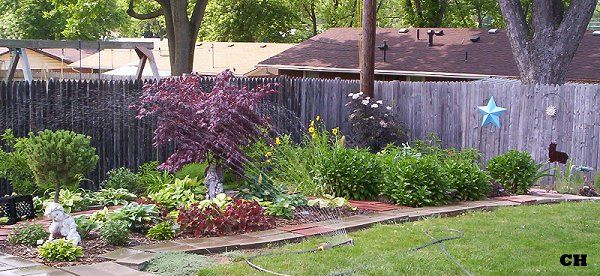 Four hours of watering with the sprinkler around the yard. This drought is awful. Didn't do much and am back hand watering each plant when needed. The Echinacea and Daisies in the right bed are partly in bloom now.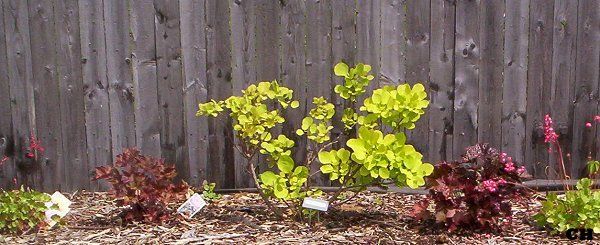 Cotinus Golden Spirit with numerous Heuchera planted around it. Love the bright gold on this. You notice it as soon as you look out in the yard. I believe it will become a little more towards a yellow green in the summer, but it's one that I love so far.
Rose Apricot Drift with Sedum Autumn Joy and Sedum Matrona on each side of it. This Rose is such a pretty little guy and loaded with blooms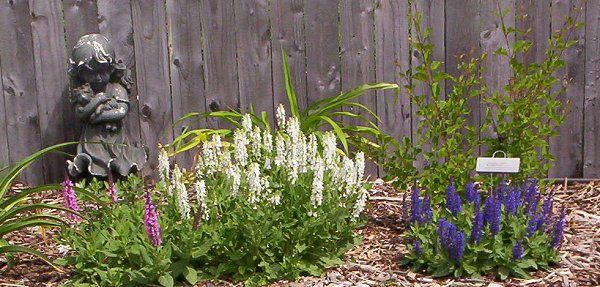 Salvia Sensation Rose, Salvia Snow Hill and Salvia Sensation Blue. I love this grouping together with the girl with
Yorkie statue
. My Salvia May Night didn't survive the Winter which I had for probably 5 years. I was intending to divide it this year but it apparently had other ideas.
The Spirea Magic Carpet is blooming, flanked by Heuchera Beaujolais and Heucherella Sweet Tea.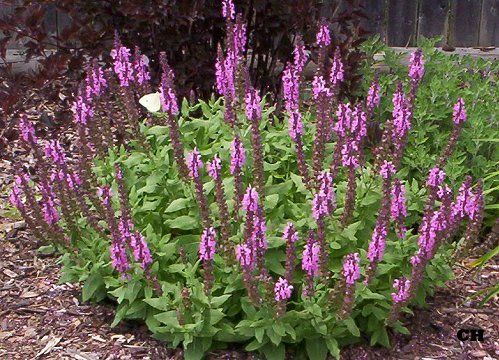 I've had several large Butterflies but never with camera in hand, so snapped this one of the little white on a different Salvia Sensation Rose.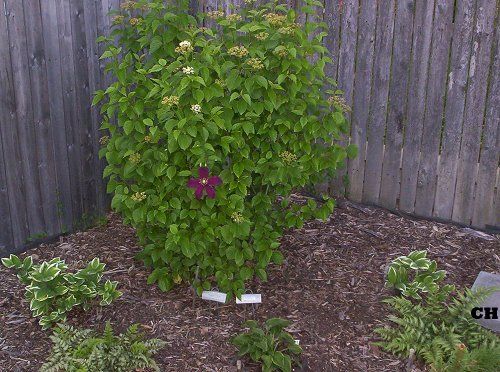 Viburnum Autumn Jazz with Clematis growing through it. My other Clematis may have bit the dust. I keep hoping it will start growing. Flanked by Variegated Solomon's Seal and Japanese Painted Ferns. I've left plenty of room here for this shrub to get to it's expected size. I predict it will do quite a bit of growing this year. Viburnum Autumn Jazz is one that grows vase shaped.
Let's close with this cute little guy, just a youngster yet. I was out back about 1 AM and saw this little guy. Ran and grabbed a camera and flashlight. It was pitch black but I shined the light on him and got the photo. He just sat there and posed.

Hope your gardening is going well.