The first full week of September 2011. After a summer like no other that I remember. I know that we've had it easy compared to some of the Southern states. I guess I should count myself lucky that anything is blooming.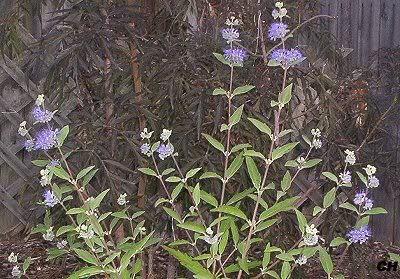 The Blue Mist shrub, which is in the Spirea family. I love the blooms on this but it just doesn't put out the blooms early enough for me. Had more in the yard and took some out. I left two in as of right now but can't say I won't change that next year if I find something else more interesting with a little earlier bloom that lasts through the fall. That's my Sambucus Black Lace in the background. I do like having shrubs filling up the yard since it sure helps reduce cleanup in the fall.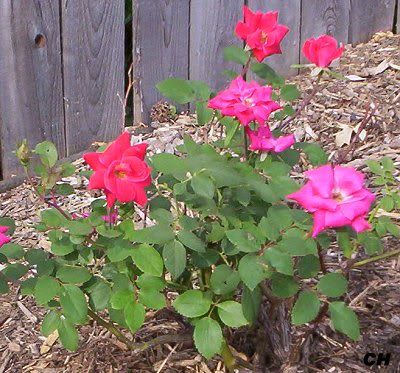 One of the Red Double Knockout Roses. Both of them survived the transplanting I did right before the heatwave. These truly are tough Roses.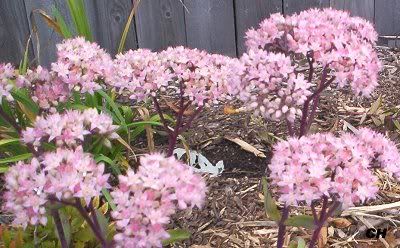 Sedum Matrona. Someone on an earlier post asked to see this again as the season progressed so here are the current flower heads.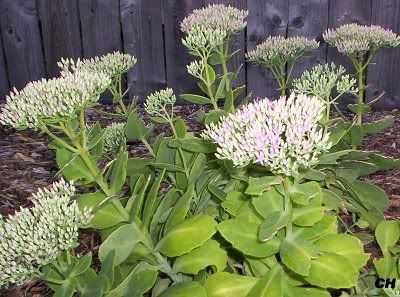 Sedum Autumn Joy. I love the flower heads of Sedum. These are just pinking up but I find them pretty before they even do and love that Sedum's grow and do great regardless of the weather. The interesting thing I notice this year was that we haven't had the usual amount of bees.
I thought both my Clematis were toast. As you can see the color is about right for toast. :) We've gotten rain for 2 days and this one has new green growth on each stem here. The other it's poor little stem burned so bad that it's on the ground and pretty much non existent now. Don't remember which one this is and wasn't worried about the name since all you see is a couple of green leaves, so my hopes are that atleast this one will come back next year. I believe that the other one is the one I wanted most. I've heard others say that theirs burned like this with only brown leaves and the stems looked dead and it came back the following year. I'm hoping for the best and that next year will be a great gardening year.