We've received some much needed rain. Not of much help when we needed it but did help before going back into the high 80's. I have started cutting back so the yard is already starting to look a little bare. Cut back all the Daylilies except Stella which insists on blooming again and a few other things. Still lots of work left, but it is showing a lot of empty space right now.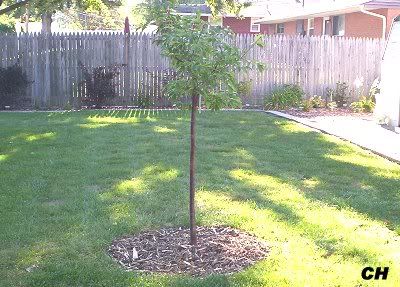 Acer Griseum, my Paperbark Maple. I love this tree. The bark exfoliates, which is where the bark peels and hangs there. Very cool looking. I really didn't intend to plant another tree out back but my family garden of Hosta will appreciate it. The Paperbark Maple only get about 25 feet high so it won't provide a lot of shade but I love the tree and wanted it. Being a smaller tree means it's slow growing also. I finally found one at a local nursery, as they can be hard to locate. I did not want to order one online since the branching is so important on these and figured I would get an ugly one.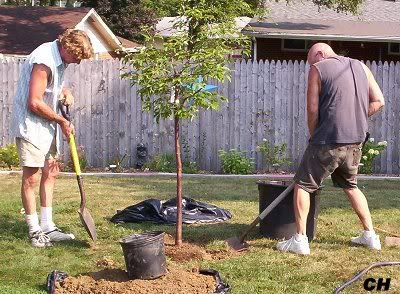 Being a 20 gallon tree, I had to have it dug out and planted for me. My brother Craig on right came over to do the work with the help of Dave that works for him in
home improvement
. For you not following my brother go on by and visit at "
Ohio Outdoors
" blog if you have time. He doesn't have time to blog much but he'll follow back.
The May Night Salvia is blooming and giving some much needed color around here. Obviously this will need to be divided next year since it sprawled out too much.
And here is Salvia Sensation Rose also blooming. A couple others are also but those being put in this year the current blooms are very close to the ground and I just didn't feel like laying on the ground to try and get photos.