Gardening with
Yorkies
is always an adventure. They do love the outside and checking everything out. Pagan is the one that follows me around all morning when I go out for any possible photos and picking any weeds that sprouted up from the day before.
My beautiful
Yorkie Pagan
showing her stuff off. She is such a busybody that it has been difficult catching her in a decent garden photo. Yorkies are very curious and always checking things out. Posing in front of a lot of different things, some no longer in bloom, but all grouped as part of my Cottage Garden. Have a Hydrangea Tar Diva in the background and burgundy Mums blooming on left and pink Mums blooming on the right.
Sedum Matrona starting to bloom. I really like the red stems on these.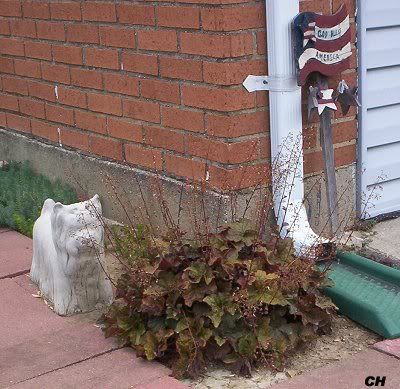 One of my many Coral Bells. This one is Huechera Melting Fire with one of my
Yorkie statues
. Melting Fire is one of my favorites. It really holds it's burgundy color throughout the seasons and since this is on the SW corner of my house that is saying a lot for it. I love Heuchera, not just for the colors of foliage but a lot of them are evergreen here as this one is.
This is it for the Lilies blooming this year. They actually bloomed a little later than the reds did, but appreciate the blooms. I had the Tiny Orange Sensation Asiatic Lily in pots and put them in the yard and they decided they liked it and went ahead and bloomed for me. I do have a few Daylilies that are reblooming. That is the only way to go now is the rebloomers other than have to have favorites.

Spent my day yesterday digging up all the Iris and dividing them. I hate dividing them. It's not only a lot of work, but too frequently you don't get blooms the following year. I'll hope for the best from them next year.