Happy July 4th to all of you. Hope you are all enjoying your day. The butterflies and bees are very active here. This Spicebush Swallowtail Butterfly visited about 3 PM in the high heat of the day yesterday, seemingly unaffected as it busied itself around the Echinacea and a little on the Daisies. No question the Echinacea is choice to them.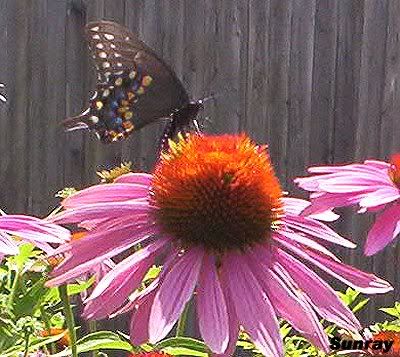 It's very pretty with it's little dots of color and does much more fluttering around than the Monarch Butterfly from last week and is not as trusting either. It fluttered around to a lot of flowers trying to avoid me, but wouldn't outright leave because of me. Guess it felt it was there first and claimed them all as his.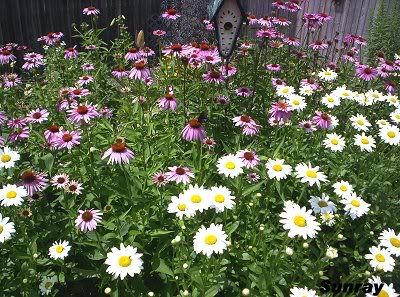 The Echinacea and Daisies are really blooming themselves away. I guess I can understand the little Swallowtail fluttering around so much, it couldn't decide which one to go to next.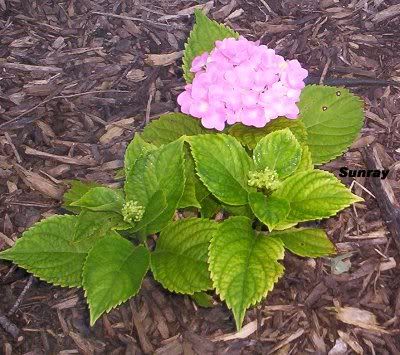 Hydrangea Forever and Ever. This has such beautiful blooms on it, but it has not been a good grower in my zone. I got two of these to fit in between my Ninebarks and wanted heights of a few feet, but so far they've died back to the roots and new growth is very little. This will be the first year after having them that they aren't moved during the year and if in the Spring they don't come back on old wood I will have to use something else here as they just aren't big enough with having to regrow each year.
I have numerous different Daylilies blooming right now and even with all the new ones out there I still love my antique Kwanzo Daylily and wouldn't be without it. It's blooms are so beautiful. The only problem is that Daylily blooms don't last but a day so I don't allow them to become primary in the gardens.