Garden blooms happening in Ohio and holding up. The Echinacea and Daisies continue blooming like there hasn't been a heatwave. I'm sure after July and August they will be looking sad after the long period of time this heatwave will have been going on, but these are flowers that you can count on for all summer long blooms and do very well here. Each bloom lasts for weeks and gives lots of blooms over the summer, even more so if dead headed.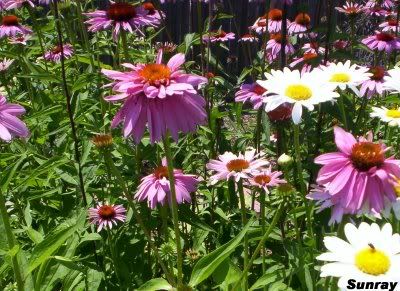 One of the Double Decker Echinacea for me this year. I really like having a few of these interspersed for the diversity and love the petals on top and bottom both and they are just as tough as the regular Coneflowers.
Some of the different Daylilies and Lily that are blooming right now here, either finishing up with their last blooms or just starting their blooms. I will really miss their pretty bright colors when they are finished for the season. Daylilies are one of those plants that grow no matter the circumstances in this area. There are so many color choices that it fills most requirements for most people.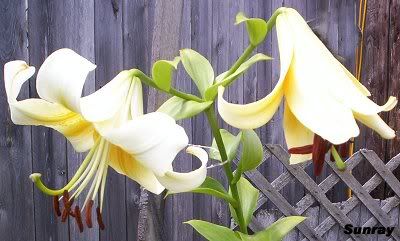 The Lilium American Hope, known as the Tree Lily. I love the blooms on these. I wish they faced up a little more, but with their height you have no problem seeing these beauties and the bloom itself is huge. I moved mine last fall so they are only between 4 and 5 feet right now. They can get over 6 feet tall the longer they are left in the same location.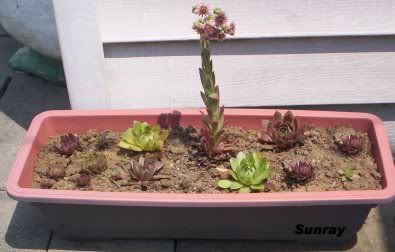 One of my container gardens which has some of my Sempervivums. The Hens and Chicks make great container plants since they will overwinter in them in Ohio without protection. I had to go ahead and get this photo since the center one is flowering. Once a Sempervivum flowers that particular Hen dies so if there are any babies attached, you need to pull them off and plant them if they haven't already rooted, before the parent dies. Have a nice week.