Hydrangeas in bloom even in spite of the current heatwave affecting the country. It's just not possible to keep enough water going to the plants in my gardens and I'm at the point I'm surprised anything is still blooming, although I am sure seeing a lot of burn on everything. All these Hydranga are in full sun and do quite well.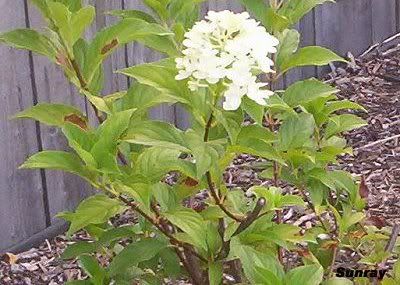 I purchased this Hydrangea Vanilla Strawberry last year. Wasn't happy that I bought a potted plant online and received it bareroot with one of the major roots broken which I had to prune off. This Spring it did come back but part of it did not and obviously was affected by that root, so I am happy with my one whole bloom and gorgeous it is and and it will add the strawberry pink coloring over the next weeks.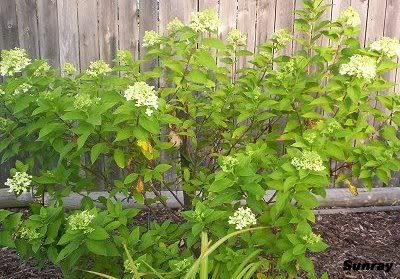 I absolutely love Hydrangea Limelight and have two of them in my yard. These give you blooms that last until hard frost. It's one that I would never be without.
Hydrangea Quickfire blooms the quickest of my Hydrangea and I do really like it, but I don't get as many blooms and since I have several I am taking one or two out.
Hydrangea TarDiva. Lovely smaller blooms on these compared to Limelight. I like these also, but when you have Limelight, it's hard to notice the rest.